A health protection environment is achieved by cleaning and disinfecting the air ducts, for example the central air conditioning system, a service that AEROCLEAN can offer. As you already know, this process is important for many reasons.
According to experts, the pathogenic microorganisms are transmitted through the air flow as they are moving in the air. That is why maintaining good indoor air quality in places with congestion is the most important factor in ensuring the health and protection of people who work in or visit them.
Advanced robotic machines to ensure your health
The cleaning provided by AEROCLEAN is achieved with the use of advanced remotely operating vehicles (ROV), which enter inside the airways, and remove all pollutants. Pollutants are collected in a special absorption machine to be disposed of safely.
Products that respect the environment
AEROCLEAN respects the environment and sets high priority on human health. That is why the disinfection that we carry out in your place, is done with the use of appropriate disinfectant products which are friendly to the environment but also certified for their results. The application of these products is done by spraying within the network of the main air conditioning units. These disinfectant dispensers create a very fine dispersion of droplets, which diffuses easily inside the system and covers all surfaces.
We protect you from a wide range of pathogenic microorganisms found in the airways.
Airways cleaning and disinfection ensures during the process the destruction of a very large range of pathogenic microorganisms such as꞉
Fungi
Bacteria
Germs
Mites
Viruses (Covid-19, Legionella, Tuberculosis, etc)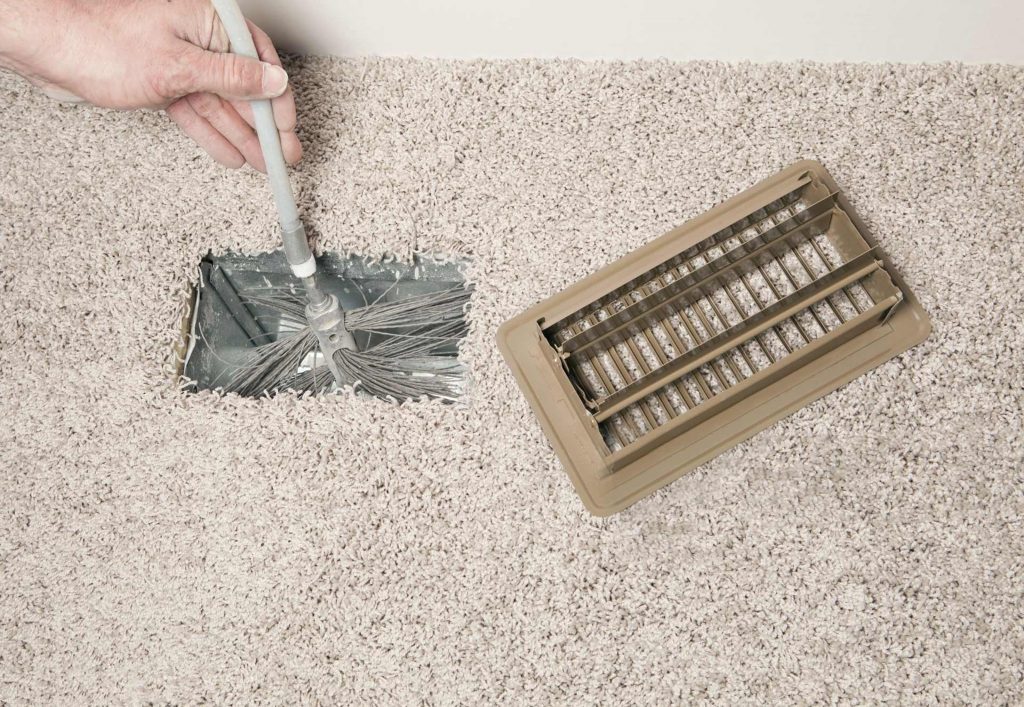 Personalized for your needs – Prepared for the highest demands
We know that every business is unique. That is why we provide personalized solutions for your needs. In addition, we take seriously the special circumstances per occasion and carry out special planning specifically for your business.
Air quality control inside the airways.
Collection of a sample of pollutants inside the airways and their analysis in a laboratory.
Cleaning of the main unit of the central air conditioning.
Preparation of air duct cleaning and removal of inspection – build new if there are none.
Sampling to detect hazardous particles inside the airways.
Measurements of the air quality of the airways with special machines.
Visual inspection with special high definition robotic cameras (High Definition) and recording on digital media (CD).
Carrying out cleaning with special machines of advanced technology.
Disinfection of airways with certified ecological products, with the help of robotic machines.
Supervision during cleaning with a special robotic camera.
Final inspection using a special high definition robotic camera (High Definition) and recording on digital media (CD).
Installation of inspection ducts in all openings created, for easy future use.
Issuance of cleaning and disinfection certificate.
Training of company staff in the proper use of air conditioning.
We support the professionals – we provide transparency
We want every company to have an accurate picture of its facilities. Thus the photography or video recording by special technicians ensures the complete and real view inside the air conditioning systems. In combination with reports, the condition of an air conditioning system is captured and it is evaluated whether cleaning is required. Before and after the cleaning, endoscopy is performed with robotic machines while the optical material that is videotaped is recorded on digital media (CD) and delivered to the customer free of charge.